Many aspects of our website are still being updated. Please contact the synod office if you are unable to find something that you are looking for.
WELCOME TO THE WESTERN IOWA SYNOD
Situated on lush farmland, nestled within and east of the rolling Loess Hills and the storied Missouri River, the Western Iowa Synod is one of 3 ELCA Synods in Iowa and one of 65 ELCA Synods in the U.S. and Puerto Rico.
Learn More
Welcome Living Faith Lutheran in Le Mars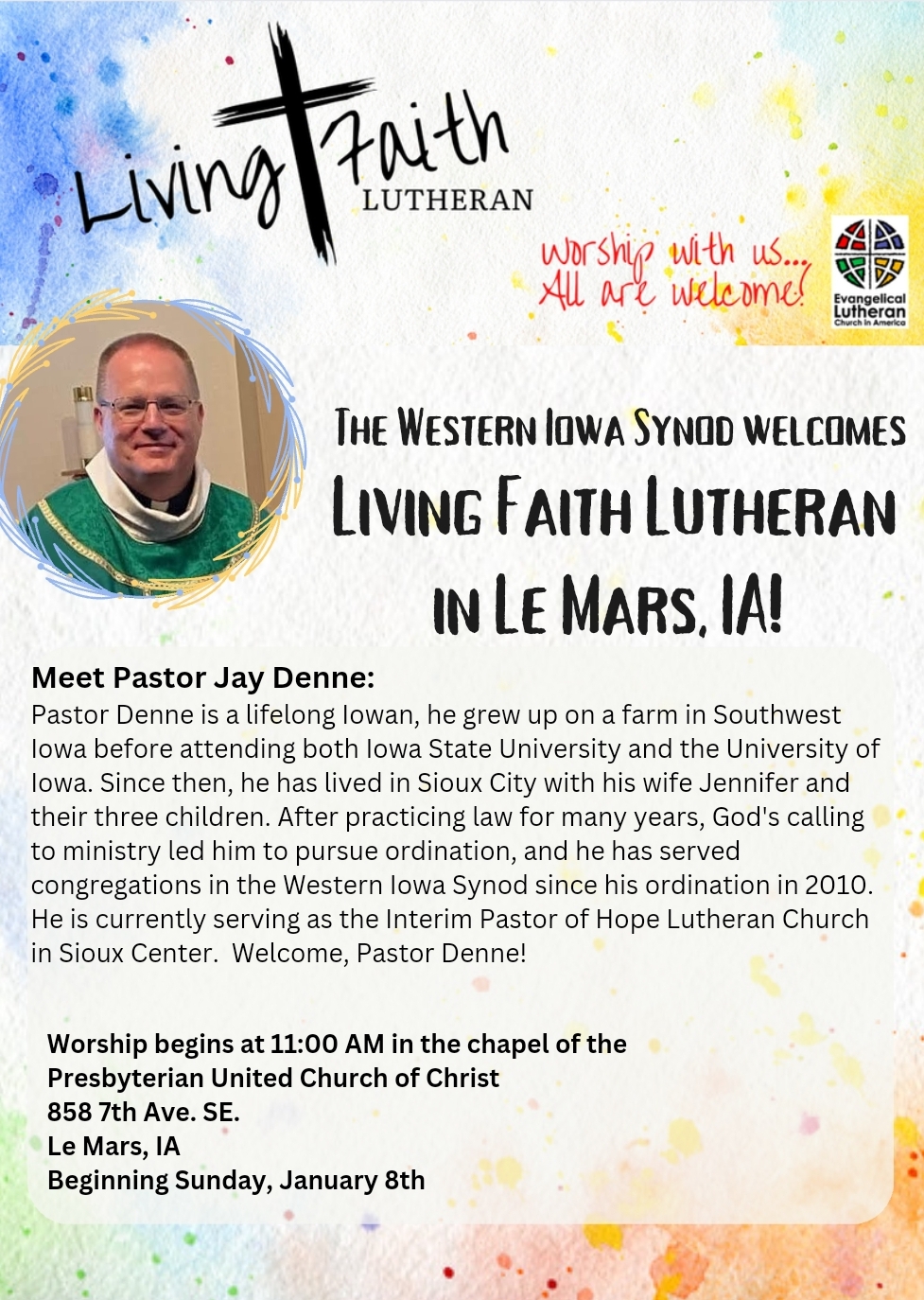 RACIAL JUSTICE VISION TRIP
FEBRUARY 8 - 15, 2023
"Stories. Stories tell us who we are, and stories tell us whose we are. My story begins here in the waters of baptism-where I was on a Sunday morning, marked with the cross of Christ, sealed with the Holy Spirit, where I was named beloved, child of God."
Click to hear the rest of Bishop Lorna's message and her invitation to you.
Please keep the 27 travelers in your prayers.
SYNOD ASSEMBLY 2023 DATE CHANGE
The 2023 Synod Assembly has been changed to April 21 & 22
Synod Assembly 2022 Service Projects
See what we accomplished together!!!
2022 Assembly Highlights
2022 Synod Assembly - April 20 - 23, at the Sioux City Convention Center
Wednesday evening pre-assembly event: Bible study by Presiding Bishop Elizabeth Eaton
Thursday evening pre-assembly event: Diversity and stigma training by Rosecrance Jackson Center
Friday evening:
Opening worship was assisted by first-call pastors, Pr Andy Nelson, and music was led by Deacon John Weit, Assistant to the Bishop, Executive for Worship, ELCA Churchwide
The Credentials and Elections Committee reported registrations of 191 voters and 31 visitors; total of 222 attendees
Passed resolutions*:
o #3 WIS Constitution: Nominating Committee
o #4 Cooperation with neighboring synods
Saturday morning:
Passed resolutions*:
o #2 Adopt the 2022 Revised Budget and 2023 Proposed Budget
o #1 2023 Compensation and Care Guidelines
o #7 WIS Constitution - Congregational Representation at Synod Assembly
o #5 Updating the WIS Constitution and Bylaws
Received greetings from:
o Deacon John Weit, ELCA Churchwide representative, who detailed the many local, national and worldwide projects that are funded by our Mission Support giving
o Presiding Bishop Elizabeth Eaton by video
Recognition of 11 Western Iowa candidates for candidacy and 6 ordinations
Recognition of 26 ordination anniversaries and 6 congregation anniversaries
Bishop Lorna Halaas presented the bishop's report
Received offerings of $7,979 supporting "Feeding the Hungry in Western Iowa Synod"and "LSI-Refugee and Immigrant Services". Thank you!
Elected 19 persons to synod committee positions*. Thanks to those willing to serve!
Saturday afternoon:
Went out to serve! Dressed in our blue "God's Work. Our Hands." tee-shirts (thanks, Harlan Asmus!) we divided into 15 service groups who did a variety of activities for nonprofits in Sioux City.
Final closing activities:
o Announced the 2023 Synod Assembly to be held April 14-15, 2023 in a location TBD
o Finished with a closing litany and prayers
* Resolutions and other reports are available on the synod website www.wisynod.org.
THE WESTERN IOWA SYNOD OFFICE HAS MOVED TO ST. MARK LUTHERAN CHURCH IN STORM LAKE.
This is a new opportunity to build new relationships with Lutheran Services in Iowa, the Storm Lake community, and to model partnerships between congregations and synod.
It is exciting to look forward to this new chapter of ministry in the synod.
The new mailing address is:
1614 W. 5th Street
Suite 2
Storm Lake, IA 50588
Phone number remains the same: 712-732-4968
News
Recent news from around the Synod and the ELCA.
Events
Mark your calendars for these great events coming up.