Many aspects of our website are still being updated. Please contact the synod office if you are unable to find something that you are looking for.
WELCOME TO THE WESTERN IOWA SYNOD
Situated on lush farmland, nestled within and east of the rolling Loess Hills and the storied Missouri River, the Western Iowa Synod is one of 3 ELCA Synods in Iowa and one of 65 ELCA Synods in the U.S. and Puerto Rico.
Learn More
Living Our Baptism: Called to Love God and Love Our Neighbors
We believe that in our baptism, we have been claimed, named, forgiven, and promised new life. We believe that we are called to live in the "covenant God made with us in holy baptism: to live among God's faithful people, to hear the word of God and share in the Lord's supper, to proclaim the good news of God in Christ through word and deed, to serve all people, following the example of Jesus, and to strive for justice and peace in all the earth" (ELW p. 236)
Through the ELCA Social Statements we teach that all residents of the United States have a responsibility to make government function well. This responsibility is lived out as a calling from God, expressed in the discipleship described in our baptismal promises. It is based on our understanding of how God governs human society."[1]
And while to many it may seem political, we are indeed called to pay attention, to pray, to be engaged, to vote, and to keep our eyes on the Good News of Jesus which prompts "Lutherans to ask one simple but all-encompassing question: is the neighbor being served?"[2]
Is the neighbor being served? My heart aches as I ask this question and struggle to make sense of the bills introduced during this current legislative session that put LBGTQ adults and children at risk. These proposed bills focus on gender identity related to children, their parents/guardians, educators, and healthcare providers preventing accommodation, privacy, education, or healthcare.
The ELCA is a church that firmly believes that every human being, regardless of gender identity, should have access to education, privacy, accommodations, and healthcare.
We believe that God calls us to love all people.
We believe that LGBTQ people are beloved children of God.
"The ELCA is a church that belongs to Christ and Christ's church universal, where there is a place for everyone. The call of Christ's people today is to celebrate the diversity of God's creative work and embrace all people in the spirit of love, regardless of race or ethnicity, economic status or gender." in the same document, "…it is important to remember the Evangelical Lutheran Church in America (ELCA) rejects all forms of hatred or discrimination. This includes employment discrimination against the transgender community, as stated in "Gender Identity Discrimination," a policy resolution that was adopted by the 2013 ELCA Churchwide Assembly."
Let us ask – is the neighbor being served?
Let us live with courage and love -
Let us together pray –
Mighty and merciful God, lover of justice and equity, you call us to support the marginalized, to help those who suffer, and to honor all people. By the power of your holy Spirit, make us advocates for your justice and instruments of your peace, so that all may be reconciled in your beloved community; through Jesus Christ our Savior. Amen (adapted from ACS,p. 47)
The Rev. Lorna H. Halaas
Bishop, Western Iowa Synod, ELCA
------------------
ELCA. "Government and Civic Engagement Social Message." 2017. https://download.elca.org/ELCA%20Resource%20Repository/Government_and_Civic_Engagement_Social_Message.pdf?_ga=2.186583918.654093864.1677259457-1290446844.1667410172
[2] Ibid.
In Ministry Together - God's Love Made Real
November 2023
God has called and gathered us to be church together!
We are the Body of Christ, 116 congregations - the Western Iowa Synod, ELCA!
Yes! We are church together!
Yes! We are doing ministry together!
Yes! We are a church that is changing! We are being called to change the way we equip and call rostered ministers, partner with neighbors, move beyond our buildings, and imagine new ways of being church together.


I am asking each congregation, each person in the Western Iowa Synod to:
Consider how the promises made in Holy Baptism are lived out daily individually and as a congregation.
In Holy Baptism God claimed you as a beloved child and promises to be with you always. In response to God's amazing love and grace we promise to gather at God's table, to study and learn, and to work for justice and peace.
How does knowing you are a beloved child of God impact your life?
I am asking each congregation, each person in the Western Iowa Synod to:
invest the resources, the gifts that God has given you – your energy, your prayers,
and your money into this work to which God has called us to do together!
How is giving a way of loving? What holds you back from giving?
I am asking each congregation, each person in the Western Iowa Synod to:
shift from thinking stewardship as budget, to budget as ministry. To shift from counting dollars to nurturing a deeper relationship with Jesus Christ.
What do you desire for the church that will encourage you to give?
From
To
-----------------------------------------------------------------------------------------------------------------

Fund raising
Preserving the building/institution
Responsibility – guilt, paying dues
Program driven
Serving members

Faith raising
Impacting lives, mission, community
Call of faith, generosity, abundance
Mission and ministry focused
Empowering change in lives
We are in ministry together – God's Love Made Real
2023 Budget Highlights
Training Leaders for Today and the Future $ 106,032
ELCA Youth Gathering
First Call Theological/Leadership Education
Lay Leaders
Seminary Students
Synod Authorized Ministers
Accompanying Congregations for Ministry $ 72,400
Call process
Conflict Management
Holy Closure
Interim/Transitional Ministry
Shared Ministry Agreements
Synod Staff Travel within Western Iowa
Technology Assistance
Specialized Ministry Communities $ 79,954
Campus Ministry
University of Northern Iowa
Waldorf University
Lutheran School of Theology in Chicago
Wartburg Theological Seminary
Church of the Damascus Road (prison congregation)
Living Faith ELCA Mission Start/LeMars
Lutheran Services in Iowa
Young Adults in Global Ministry (YAGM)
Addressing Hunger in Iowa $ 25,600
Hog Processing
Community Meals Grants
Food Bank Grants
ELCA Mission Support $ 150,000
People of the Western Iowa Synod, I am asking you to be generous and to trust that working together we can be church together, where God's Love is Made Real for all people.
With Gratitude for your Partnership,
Rev. Lorna H. Halaas, Bishop
Western Iowa Synod, ELCA
More Resources:
Mission Support as of Oct. 31, 2023
GIVINGTUESDAY
GivingTuesday is a global generosity movement unleashing the power of radical generosity. GivingTuesday was created in 2012 as a simple idea: a day that encourages people to do good. Since then, it has grown into a year-round global movement that inspires hundreds of millions of people to give, collaborate, and celebrate generosity.
Join the movement and give – each Tuesday and every day – whether it's some of your time, a donation, or the power of your voice in your local community.
It's a simple idea: whether it's making someone smile, helping a neighbor or stranger out, showing up for an issue or people we care about, or giving some of what we have to those who need our help, every act of generosity counts and everyone has something to contribute toward building the better world we all want to live in.
This year - Celebrate Giving Tuesday with a gift to the Western Iowa Synod on Tuesday, November 28th.
Celebrate Giving Tuesday
Be Generous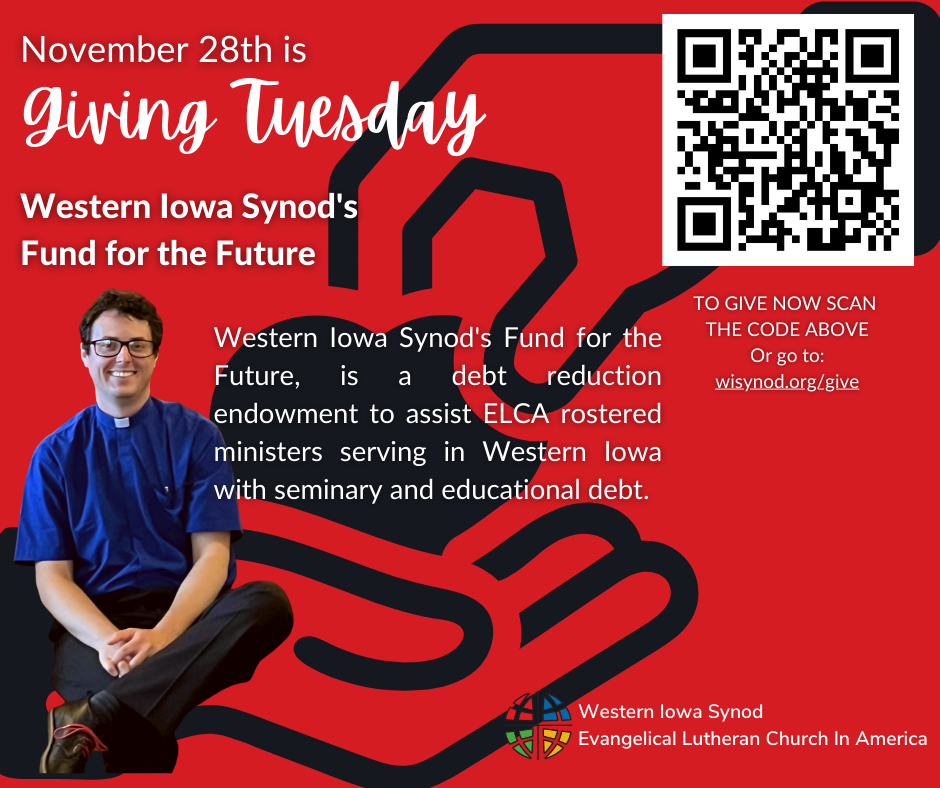 Events
Mark your calendars for these great events coming up.